WHAT IS A NURSE PRACTITIONER?
Nurse Practitioners (NPs), also called Certified Registered Nurse Practitioners (CNPs) or Advanced Practice Registered Nurses (APRNs), have master's degrees or doctorates and are nationally certified in their specialty areas. Just a few of the many services offered by NPs include performing and interpreting diagnostic tests; diagnosing and treating acute and chronic conditions such as diabetes, high blood pressure, infections and injuries; prescribing medications and other treatments; and managing patient care. Over 100 studies have proven that NPs provide safe, high-quality health care.
WHAT IS FULL PRACTICE AUTHORITY?
Full practice authority is the collection of state practice and licensure laws that allow for nurse practitioners to evaluate patients, diagnose, order and interpret diagnostic tests, and initiate and manage treatments – including prescribe medications – under the exclusive licensure authority of the state board of nursing. This is the model recommended by the Institute of Medicine, National Council of State Boards of Nursing and the American Association of Nurse Practitioners. Currently, 22 states and Washington, D.C. are already using full practice authority to expand access to care, especially for underserved rural areas and patients with Medicaid insurance.
Virginians deserve access to high quality care in not only rural areas, but metropolitan areas where access is also limited.
WHY FULL PRACTICE AUTHORITY IS NEEDED IN VIRGINIA
Under current Virginia law, a nurse practitioner must secure a business contract with a physician – known as a collaborative practice agreement – in order to practice. This arbitrary, outdated, and sometimes costly mandate is prohibitive to nurse practitioners practicing to the full extent of their education and training. The collaborative practice agreement must be eliminated as a step towards achieving full practice authority, the legal right for a nurse practitioner to practice without the permission of another profession.
Take action today – voice your support for lowering barriers to practice in Virginia.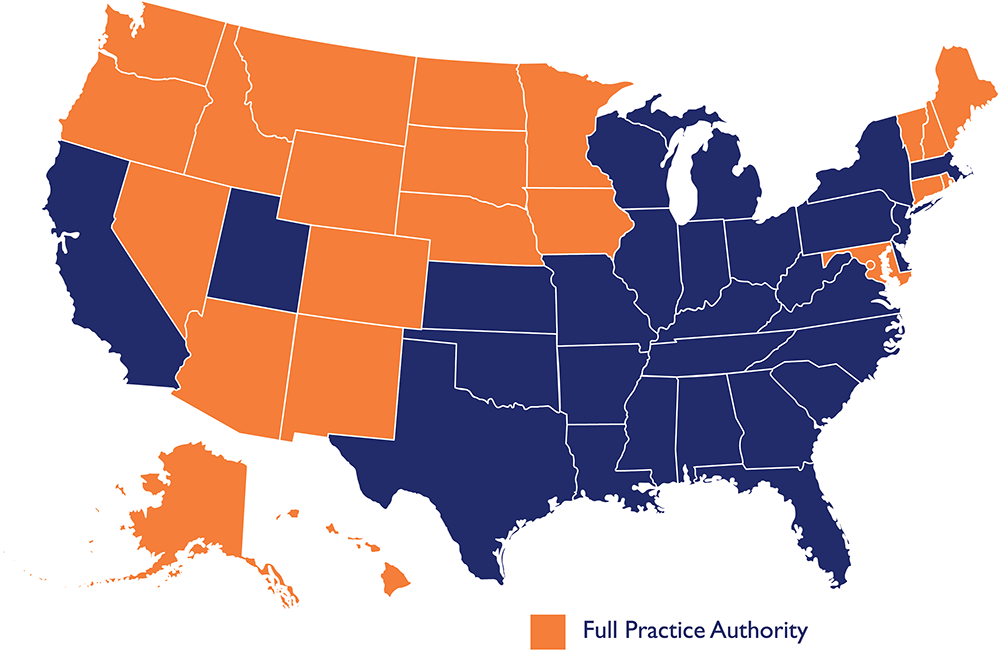 VIRGINIA CAN BE NEXT
Elected officials have the opportunity to ensure more people can access quality care by modernizing state law and allowing these highly-trained professionals to serve patients to their fullest potential. Our proposed legislation, Virginia HB 793, would establish a Transition to Practice model for NPs across Virginia, an integral step towards achieving Full Practice Authority.